Local School Make a Visit to Biggleswade CMHT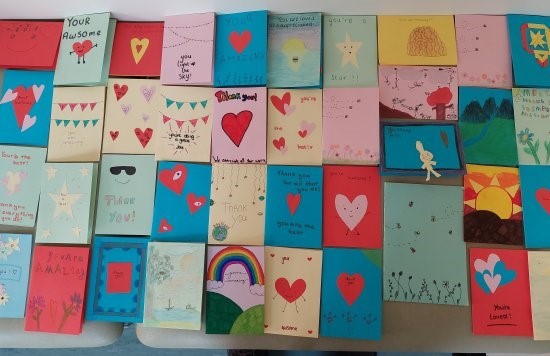 Biggleswade CMHT received a surprise visit from children and staff of the Edward Peake Middle School, a local school close to the service on 1 February.
The children delivered a touching package which included 40 handmade cards from the Young Leaders Group at the school. (See attached picture above)
The cards contained heart-warming messages from the children.
Read the sample of messages below:
"Dear mental health worker. You are awesome thank you so much for helping all these people, lots of love"
"Dear mental health worker. Thank you for all that you do. From Esme"
"You're a Star!! You are awesome, thank you. From Evie"
"Thank you for what you do for our community! Great Job! From Edward"
This is only a small sample of the messages of appreciation and it is fair to say that the whole team were really touched by the thought and effort from the children.
The cards have been shared out to all the team members, and everyone has been asked to keep a card on their desk or on the wall as a reminder that the work they do is valued and appreciated.
Operational Manager at Biggleswade CMHT, Martin Orr, has written back to the Young Leaders Group to thank them for their kindness and has offered to come to meet with the Young Leaders to talk about mental health and the work included within our Community Mental Health Teams.
During moments of stress and hard work, it is really important to share some positivity.
A huge well done to the team at Biggleswade CMHT!