Meet Morgan, Biggleswade New Peer Support Worker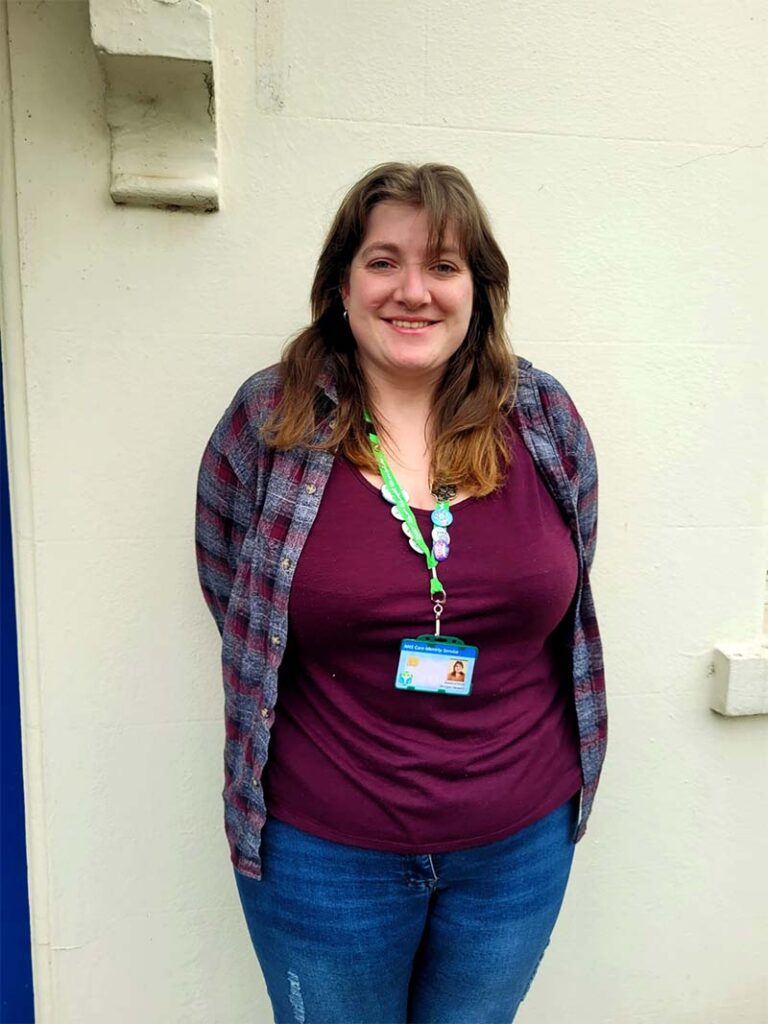 Morgan Newell is a Peer Support Worker based in Biggleswade. She started in the Trust in the Befriending Team in March 2022 and quickly fell in love with the work. Since then, she has been involved in a range of areas– and now she is a couple of weeks into her new role as a Peer Support Worker. Trusttalk caught up with her to hear about her journey.
What interested you in becoming a Peer Support Worker?
Honestly, it was purely because I wanted to offer people the help and support that I wished I had received during my hardest moments. There were so many times when I would have really benefitted from having someone who knew the shameful and terrifying parts of mental health struggles. I want to be able to do that for someone else.
Doing this role has made me grateful for the bad experiences. It has given them a purpose and has made me into the person I am today. If my past and my conditions help someone else, then it was worth it.
What types of roles/jobs have you done previously?
I worked as a freelance administrator for a small technology company. I went to university to study Sociological Studies which went well until the end of second year when I was in a car accident. I went through some awful personal stuff and had a mental breakdown - all just before the pandemic! It was a really rough time but it was enough for me to actually get some help. Within the following year, I was diagnosed with Depression, Anxiety, Complex-PTSD, and Autism. It was the most terrifying and relieving time of my life.
Later, I was referred to an ELFT employment specialist, Tracy Brewer Reeves from Spring House. I have since worked for the Befriending Service, Autism Bedfordshire, People Participation and Rainbow Bedfordshire. With the skills and confidence these services gave me, Peer Support seemed like the best next logical step.
What is an average day for you - what types of things are you involved with?
As a Peer Support Worker, I use my lived experience and personal diagnoses to help and advise service users through their personal recovery journeys. I will support them at appointments and look for social events and workshops that match their personal interests and experiences. Above all, I will try my best to understand them from their perspective.
In the quiet periods, I will spend my time researching various social events that could be useful; this is all on a shared excel spreadsheet I created for the entire team.
What is the best part of your job?
The excited and elated tone in someone's voice when they realise that I just get it. When I say something about my own experience, there are those moments where you can see the bittersweet relief that they don't have to convince me. Being able to offer that feeling is amazing.
What is difficult about your role?
Knowing the limits of what I can do to help. The stories you will hear are the worst moments of people's lives and you may not be able to immediately help them.
Who inspires you?
It is so difficult to pick a specific person as inspiration. Instead I draw inspiration from art, books, and media. In my mind, art is an expression of experience and emotion - which sounds just like what I do. How could I not find that inspiring?
If you weren't working in the NHS, what would your alternative career be?
I'd maybe train as a therapist or go into mental health research (Careers I hadn't even considered at the start of my degree!)
What helps you to stay on top of life?
Remembering to be an active participant in my life. When I was younger, I always used to say that I wanted to grow up to be happy. Now that I have grown up, I will choose to demand it, to seek out the things that will bring me joy. As Rebecca Solnit said in her book, The Hope in the Dark, "Hope is not a lottery ticket you sit on...it is an axe you break down doors with ... to hope is to give yourself a future."
Thank you for taking the time to listen to me and thank you to everyone in the NHS for helping me find my place.