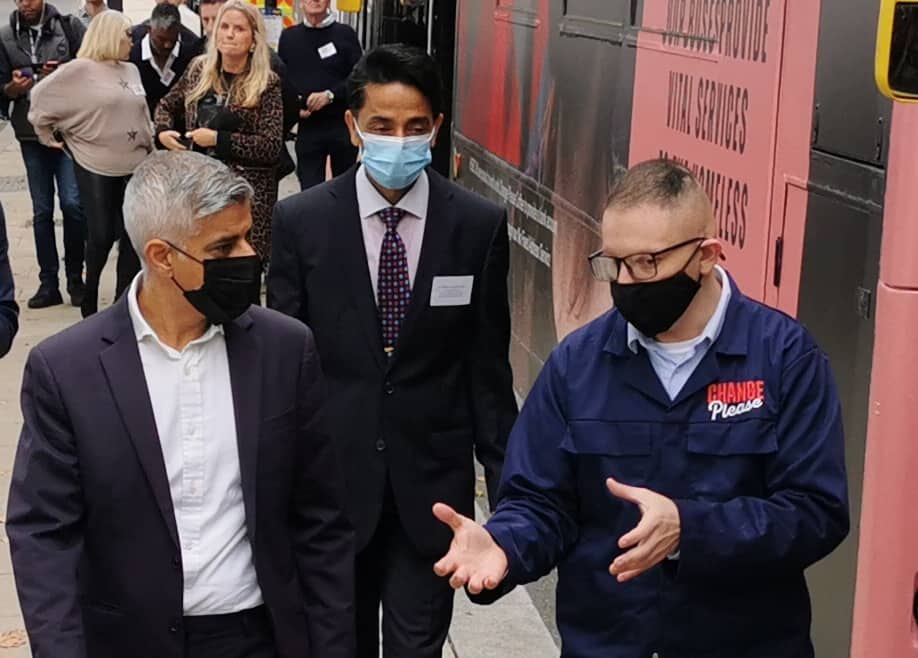 Repurposed London buses will provide direct support to people sleeping rough on London's streets. The project was officially launched by the Mayor of London, Sadiq Khan. The Change Please charity is hosting the Driving for Change bus initiative and ELFT is the first NHS partner involved.
Executive Lead for Primary Care, Dr Mohit Venkataram, and Director for Primary Care Marina Muirhead attended the launch event on London's Embankment on 7 October 2021.
Dr Venkataram spent time talking with The Mayor about the project and ELFT's involvement in the multi-agency project.
The Driving for Change initiative will be an all-in-one direct intervention service providing free GP consultations, haircuts, dental care, digital and financial literacy training, employment support, shower facilities, therapy assessments, and essential everyday items.
This one-stop solution is a vital offering that will give people experiencing homelessness pathways to potentially life-saving key services that centralise support.
The launch event was held to raise awareness of the programme and the next few month
It was held ahead of World Homeless Day 2021, which was 10 October 10, 2021.
"We are tremendously proud to be the first NHS partner involved in this pioneering project."

"The support of The Mayor in launching this innovative programme and helping raise awareness of the issue is absolutely fantastic."

Dr Venkataram