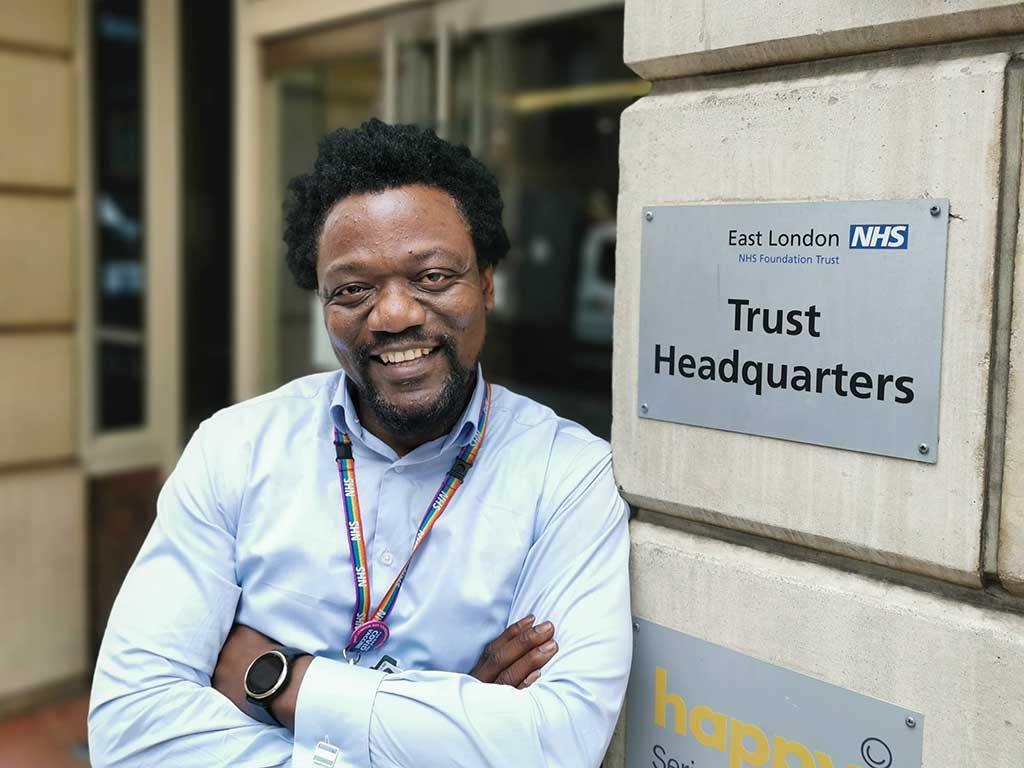 ELFT bank manager Kanja Sandy has shared his experience as a soldier in Sierra Leone – and discusses the role of the NHS in supporting veterans and the value that veterans can bring to organisations.

Kanja Sandy is a trained jungle commando who reached the rank of captain in the army of his native Sierra Leone and served during a period of major political instability that saw him involved in three different Governments being overthrown.
Today Kanja is ELFT's Staff Bank Manager, having arrived in the UK in 1999 and qualifying as a mental health nurse after studying at Buckinghamshire University. He also has a MSc in International Development in Health from University of East London.
Kanja is able to share and understand the unique needs of veterans for help and support from the NHS, and how veterans can use their skills through working for the NHS.
"I am a proud veteran and proud to have been able to save lives," he said.
"But we all faced stress that other people won't understand. We have seen friends dying, fallen into ambushes and had to contend with trauma in the line of duty and its after-effects in civilian life."
Kanja is a proud supporter of the Trust's NHS Veterans Aware work to help veterans through delivering improved healthcare and in providing employment opportunities for former service personnel.
He has also used his personal experience to create a group dedicated to helping former armed service colleagues from Sierra Leone connect and provide peer support.
There are about 40 members in the UK and group connects people across the world.
His hope is the Government in Sierra Leone will consider creating a covenant to help veterans in need of physical and mental health support following their service.
East London NHS Foundation Trust (ELFT) has been named a Veteran Aware Trust in recognition of its commitment to improving NHS care for veterans, reservists, members of the Armed Forces and their families.
The accreditation, from the Veterans Covenant Healthcare Alliance (VCHA), acknowledges the Trust's commitment to a number of key pledges, including:
Ensuring that the Armed Forces community is never disadvantaged compared to other patients, in line with the NHS's commitment to the Armed Forces Covenant.
Training relevant staff on veteran-specific culture and needs;
Making veterans, reservists and service families aware of appropriate charities or NHS services beneficial to them, such as mental health services or support with financial and/or benefit claims;
Supporting the Armed Forces as an employer