E16 Health Pontoon Dock: A State of the Art Health & Wellbeing Centre for the People of Newham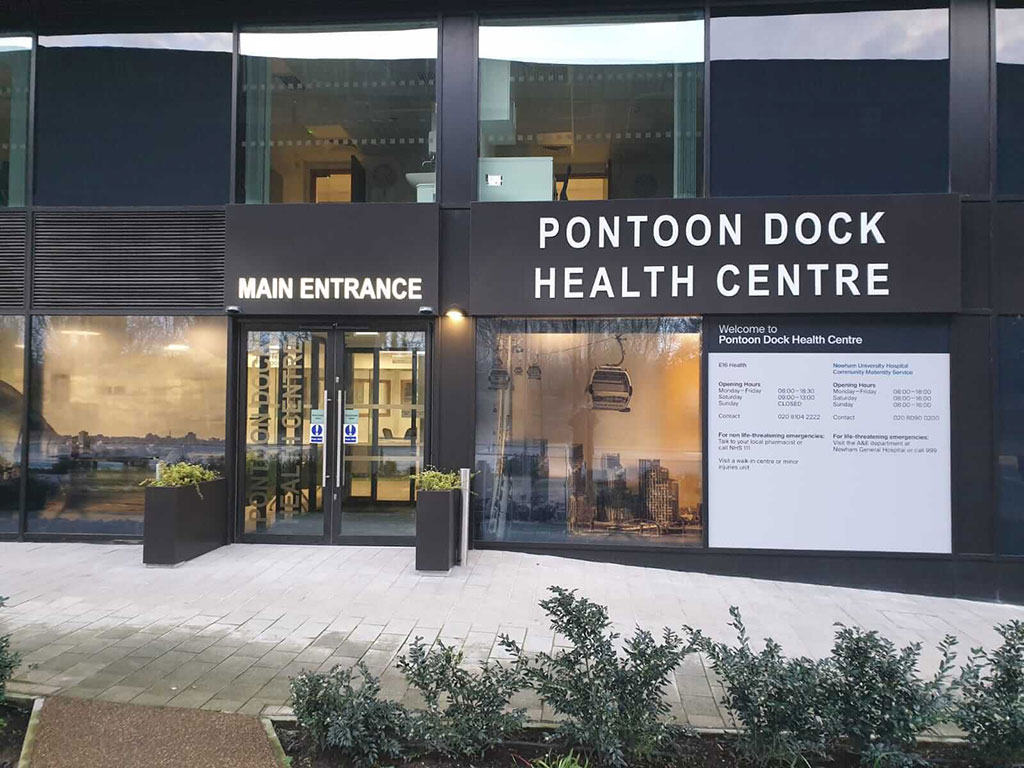 Successful partnership working between ELFT, the London Borough of Newham and the Newham Health Collaborative (GP Federation) means the new E16 Health Pontoon Dock, a fit-for-purpose primary care health and wellbeing centre based in the borough's Royal Docks, is ready to serve local residents.
The Centre is designed to cater for an increased population of over 20,000 people as a major residential regeneration scheme takes off over the next 20 years.
Pontoon Dock's unique design allows for the provision of high-quality healthcare services embedded within modern, high spec facilities that provide much needed investment with the capacity to meet future demand.
The practice will run a range of enhanced services to address the health needs for all its patients, including local authority and acute specialist services as well as operating as a training site for a range of clinicians.
It comprises 14 consulting/treatment/training rooms, a phlebotomy room, and a large group therapy room.
The new facility hosts patients previously cared for at the Britannia Village practice (currently cared for at Albert Road).
It is the first of many planned projects that Health & Care Space Newham (HCSN) are creating to transform health facilities across the borough.
HCSN, a partnership between Newham Council and the Trust, will develop facilities that offer GP services alongside a range of community health, social care, out of hospital, and a variety of clinical services.
The partnership will also build much-needed housing for sector staff.
This is a new development model that will change the way health and social care services are delivered in Newham. HCSN is the first such partnership between a local authority and an NHS body in the country.
On the launch of the E16 Pontoon Dock Health & Care Centre, the Trust's Executive Commercial Director, Dr. Mohit Venkataram said:
"Our aspiration as an organisation is to improve the lives of the residents we have the pleasure of serving.

"This partnership allows us to ensure that whilst we focus on delivering outstanding health care we also have the opportunity to influence local key worker housing and local employment.

"The joint partnership with the local authority and the local health and social care providers is focused on delivering outcomes and generating social capital for our residents rather than focus on health improvement alone.

"Our joint commitment starts with Pontoon Dock and over time will span many such developments"
ELFT CEO Paul Calaminus said:
"We are delighted to be part of this unique collaboration with Newham Council and NHS Newham Clinical Commissioning Group.

"The layout and design of the Pontoon Dock primary care and wellbeing centre places an emphasis on collaborative working.

"By bringing primary care, community health and social care services alongside GP services, we are ensuring that all services work together to provide the best care possible.

"The future of healthcare is one where investment into facilities does more than provide a building but actively contributes to healthier communities. We are excited about this and future plans to work with our communities to design wellbeing centres that support a brighter, healthier future."
A 3D 'virtual' tour of the Centre is available here: https://northeastlondonccg.nhs.uk/pontoondock/index.html