Going Viral – to Improve Community Mental Health Care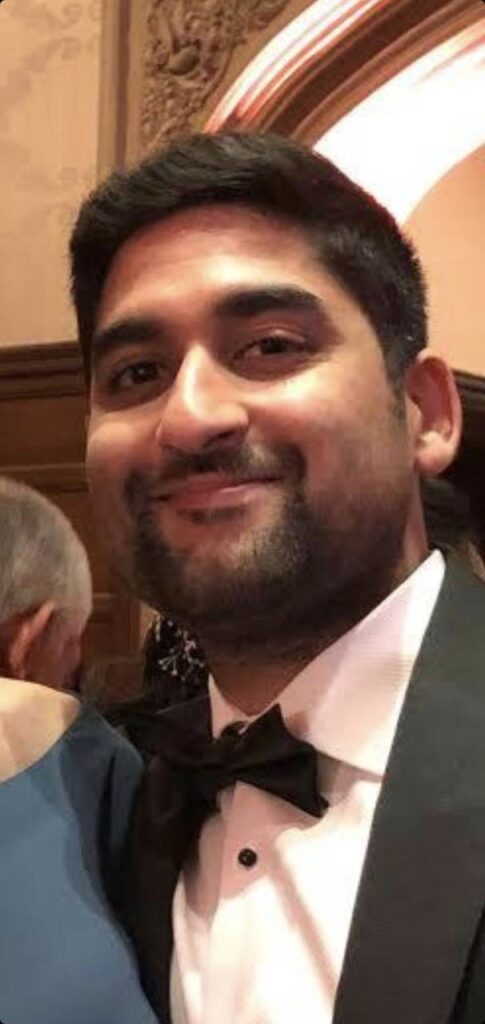 Viral Kantaria is the Trust's new Programme Director for Community Mental Health Transformation. He joins ELFT from NHS England where he worked on the NHS Long Term Plan. In this interview he tells us about his career path, his ambition to make mental health care truly serve local people, who his heroes are (his mum), how he relaxes and what it is like to be called 'Viral' during a pandemic!
Tell us about your career background? How did you come to be in this field?
I came into healthcare about ten years ago. I worked for a couple of ministers in the Coalition Government: the Rt Hon. Paul Burstow, and then the Rt Hon. Sir Norman Lamb. My job at the time was to support the wide range of portfolio areas of both these ministers – including mental health. It was a civil service non-political role. Working in the Private Office of Ministers is where you get exposed to some of the political decision-making process - and shape the policy-making process. They were passionate advocates for mental health.
This ignited my passion for mental health. I then moved to a policy role at the Department of Health, leading on mental health crisis care policy and legislation relating to the Mental Health Act, with particular focus on policing - working to develop new legislation to radically reduce use of police cells as a place of safety.
Did you start off with this type of career in mind?
No. But Humanities degrees open up lots of doors. I had absolutely no idea what I wanted to do with my life. But public service appealed to me!
What attracted you to this role? Why do you think it's important to deliver such a transformative programme?
Two things: Firstly, ELFT has a brilliant reputation. People are humble and there is a positive culture. Secondly, I wanted to dive into something a bit different and challenge myself. I knew I wanted to drive change, really push to make things radically better, and be part of something progressive. Making this 'business as usual' will change what happens when someone needs mental health care and support.
Have mental health issues touched you or someone close to you?
I'd be very surprised if anyone said they hadn't. I come from an Indian family. The way mental health is perceived and discussed among Indian communities is different. Most people will have some experience of mental health challenges at some point. I've had a number of very close friends and work colleagues who have been affected by a range of mental health issues – such as sleep issues and insomnia, to varying levels of anxiety, and eating disorders. I have close friends who have complex emotional needs - others with a lifelong bipolar disorder diagnosis. Nowadays, we can talk comfortably about anxiety and depression but less so about more severe mental health problems. I hope programmes like the Community Mental Health Transformation programme can enable us to talk about the sometimes really debilitating mental health difficulties in day-to-day life and language.
What do you think the challenges will be?
We're still in the middle of a global pandemic here, so I am reflecting on the fact that not only are our staff completely exhausted physically, they are also mentally and emotionally depleted. I think also of our local communities, patients, carers and families out there, who are all facing their own kind of individual or collective challenges. A lot has been achieved and we need to consolidate our gains. Our patients and carers need hope and optimism.
I think another one is the longstanding inequalities that a lot of our communities and patient groups have faced. COVID has highlighted this in a really quite harrowing way, with some of the highest death rates, if not the highest death rates in the country, particularly in Hackney and Newham. We need to do everything in our power to work with partners to make that change happen. But it's not going to happen overnight. The sheer amount of work that we still have to do to make this happen is another kind of challenge. But the kind of commitment that I've seen in the passion from people here makes me think - absolutely anything is possible!
What difference has the programme made so far, or likely to make in the long term. And if you time travelled three years, what would services look like in 2024?
I want us to be able to do two things: one is to significantly improve timely access to care, to stop saying "No" to people, and to radically reduce some of the long waiting times for people who are in need of specific packages of care. For example, a course of psychological therapy for a severe mental health problem.
Secondly, to radically improve the quality of care that people receive so that it is meaningful intervention-based care. Such as addressing the issues that cause or keep people mentally unwell, and for more people with lived experience to be part of our teams, paid fairly, with supervision and career development, influencing our strategic planning.
In three years' time, I'd want things to be totally different – to be really thinking about population health on a place-based basis, if that makes sense. We need to think about what we can offer people with lower levels of complexity, as well as to people with the highest levels of complex needs within a local community.
In three years' time, I'd want us to be talking about how we have actually made inroads into the current over-representation of people from certain ethnic minority backgrounds among the detained inpatient population, because we've actually proactively understood their needs much earlier. And because we've managed to address their needs by working co-productively with them, their carers' and with the communities in which they live.
Our services should be proactive, preventative, flexible services where we were actually saying "Yes, we can help you" to people as early as possible.
What would your alternative career be if you weren't in the NHS?
I think I'd be a writer, novelist or poet maybe.
What has it been like to be called Viral during a pandemic?
Interesting! Even before the pandemic, my name was out there. You know, things started to go 'viral' on the internet and social media, so it was part of common parlance before.
People do like to take the mick quite openly. Actually, they've been quite kind to me so far during my career, much more kind than when I was at school - as you can imagine!
Quick fire questions:
Crossword or Sudoku? Crossword.
Book or Netflix? Uh, I'd like to say book, but the truth is probably Netflix.
Dessert or cheeseboard? Uh dessert, but my French girlfriend would not be happy (she'd say both).
And London or Paris? I think we've already had the answer to this. Oh wow, yeah I'm gonna go London – just to be contrary.