How Do You Set up a COVID Vaccination Centre in Four Weeks? With a lot help from your friends!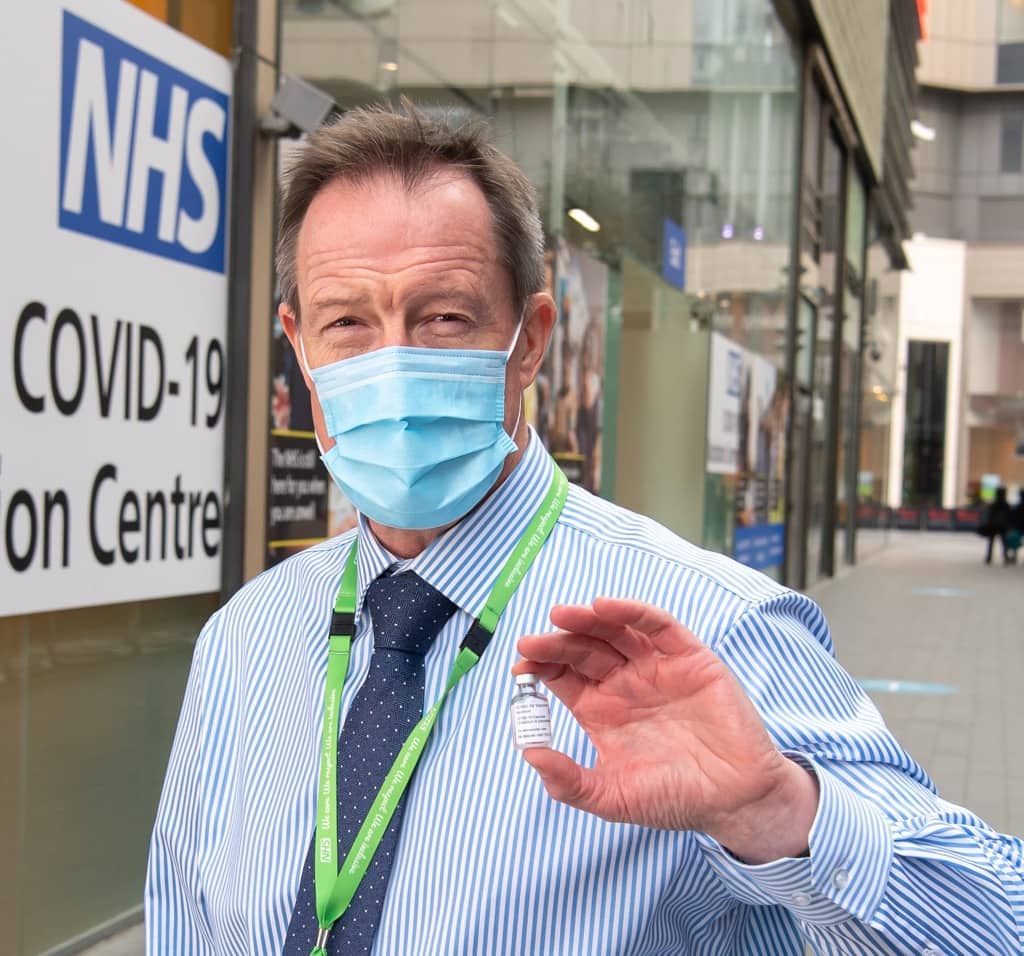 In early December, the Trust heard it was to open and a run a COVID Vaccination Centre in Westfield Shopping Centre in Stratford in a vacant retail unit. So who do you call when you have four weeks to set up a state of the art centre to provide vaccination to thousands of people? Why, Director of Estates John Hill, of course! Here he tells us the highs and the lows of those four weeks. 
The North East London STP identified the retail space in Westfield, previously the IKEA and Dwell furniture store. They set out some key features the centre would need to have, but apart from that, we were free to express ourselves. Once I saw the whole space, a plan started to form in my head. I imagined the journey people would take when they arrived at the centre, the various stages, the unexpected issues we should be prepared for, and how we could maintain the highest infection control measures throughout their whole visit.
So, our new centre boasts a pre-assessment area, an assessment area and six vaccination pods which can house 12 vaccinators each with a fridge that can take enough vaccines for a whole day to reduce movement in the centre. There is an observation space between vaccination chairs so that all vaccinators can be observed and vaccinations witnessed by a qualified professional. We have a dedicated pharmacy area close to the pods, a sluice area for disposal of used items, and a resuscitation area. (The first of our visitors will be frail and vulnerable so we need to be ready for all eventualities!)
There is a mezzanine area creating a first floor which is sparsely furnished to be a breakout area for staff to rest at a distance from one another.
Challenges
There have been many challenges along the way notwithstanding trying to make this happen in the weeks leading up to Christmas during Tier 3 and 4 restrictions! As an Anchor trust, we try to utilise local tradespeople to do work for the Trust as a way of providing employment and directing funds back to our local communities. The insurance requirements of Westfield meant that many small firms could never have met their threshold so we worked with our main framework building company that could, and they utilised our local tradespeople.
Getting crucial deliveries was another challenge. Westfield do not allow you to bring supplies through the shopping centre (even though it is empty right now!) so instead you have to book 30 minute delivery slots. Many of our suppliers can't predict delivery times to that degree so that was quite a headache. But our suppliers and contractors have really risen to the challenge and Westfield have been terrific. All have been happy to be part of a project that is going to have such an impact on the health, wellbeing and survival of local people.
The local police commander and his team have been really helpful and advised us on strengthening security at the unit. The Communications team made contact with the station manager at Stratford and the Shopping Centre security team to make sure all staff are briefed and can direct anyone unsure of the way.
Highlights
When I think about what has gone well – it is the technology. Alison Naughton, John Smith and Simon Fewer have been exemplary. From the very start, they just got on with it – no dramas, no prompts, no stalling, a great team to work with. The vaccination centre is dependent of the systems, the WiFi and everything that goes with that. Without them, it just wouldn't work.
As for me, I am pleased at how it all came together. There have been long 12 hour days and I have never spent so much time in a shopping centre – without damage to my credit card! It has been a difficult time to do a project like this with Christmas and COVID restrictions. I feel proud that I was trusted to deliver the centre, with no interference. I feel it has drawn on all the skills I have learnt throughout my life from my early days as an engineer. I feel humbled to have been 'allowed' to lead on this and kinda be part of history. I am grateful that our interim Chief Executive Paul Calaminus and the exec team had faith in me and made sure I was OK every step of the way
I have learnt that I am a control freak which isn't really a good thing as no one can help you if you don't tell them what's in your head! But I have embraced it. I retire in nine months and whilst it's not named The John Hill Vaccination Centre, there is a lot of me and the ELFT team in that unit! If all goes to plan with vaccine delivery, at the height of its activity, 3000 people a day will be able to be vaccinated at the centre. That's not a bad outcome after just four weeks!