Members Trusttalk Summer 2021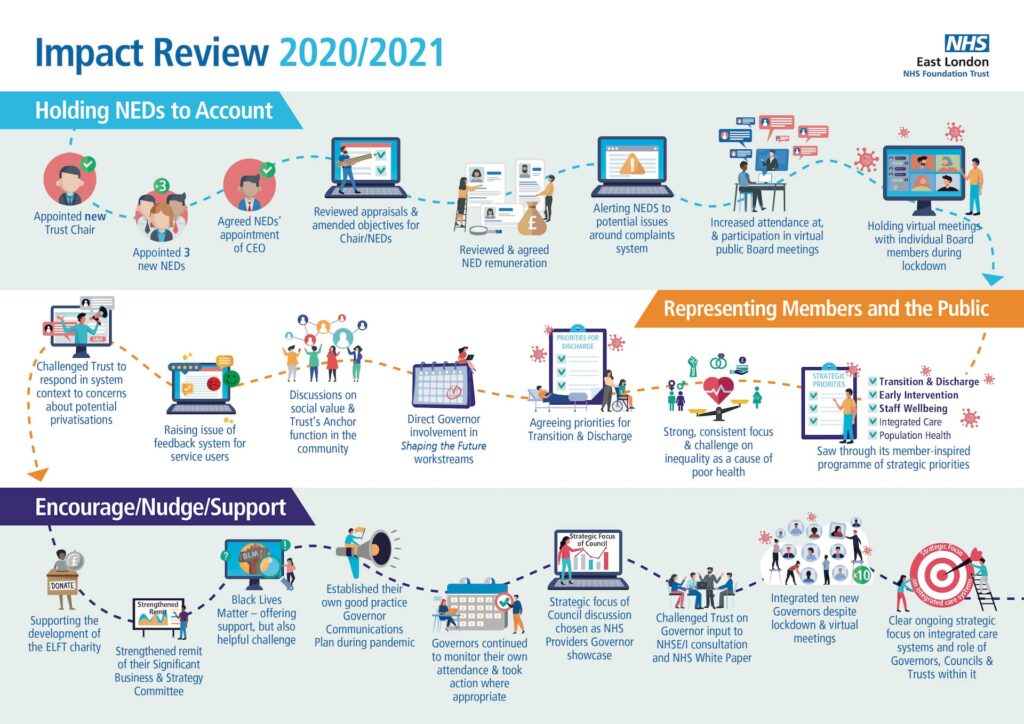 ---
How Governors Have Made a Real Impact
As every year, Governors on our Council have been reviewing their impact. For the first time, we have used infographics to highlight all the issues Governors were involved with – and given there's been a pandemic and they have not met face to face since March 2020, you can see from the infographics below that our Governors have achieved.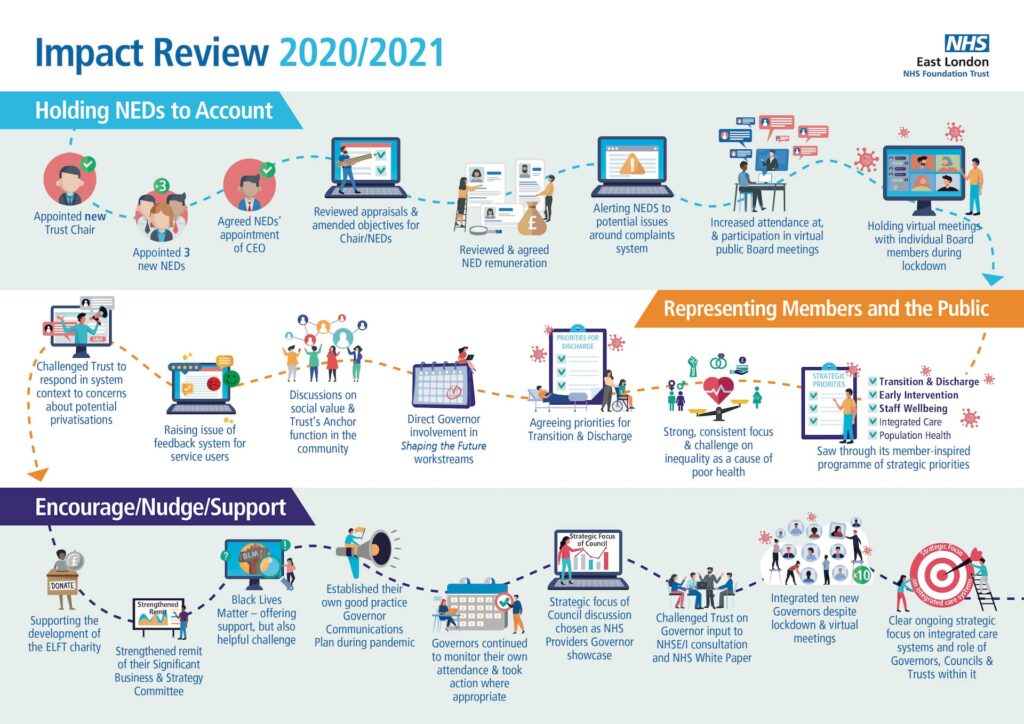 Governor Elections 2021 - Our Governors Make a Big Difference
Our Governor Elections opened on 21 July. If you are passionate about influencing and improving your local mental health and community health services, and have time to attend meetings to represent the views of your local community and our staff, then we encourage you to put yourself forward to become a Governor for East London NHS Foundation Trust.
Governors are very important to our Trust. They play a central role in improving services, advising the Trust about the needs of staff, service users and the community. They hold our Non-Executive Directors to account and inform our strategies and future plans. There are 45 Governors in total and together they form the Council of Governors which has specific responsibilities.

You can see some examples of how our Governors have made a real impact at ELFT by looking at the infographic above.
If you are a staff member or a member over the age of 16 living in one of the areas listed below with vacant Governor seats, you can nominate yourself.
We very much encourage our younger members aged 16 – 25 to nominate yourself.
1. Bedford Borough one vacancy
2. Central Beds one vacancy
3. Hackney: two vacancies
4. Luton: one vacancy
5. Newham three vacancies
6. Rest of England one vacancy
7. Staff: two vacancies
8. Tower Hamlets three vacancies
What are the benefits of being a Governor?

Governors are volunteers and although this is not a paid role, Governor expenses for example travelling to and from meetings will be reimbursed.
We provide a Governor Induction and continues development sessions and opportunities to develop skills, knowledge and experience. Staff Governor Caroline Ogunsola expressed '

"Becoming a Staff Governor has been one of the best things I have done in my career"
If you would like to find out more you will be sent details to join a virtual Prospective Governors Workshop being held in August 2021.
ELECTION TIMETABLE
Notice of Election / nomination open
Wednesday, 21 Jul 2021
Nominations deadline
Wednesday, 18 Aug 2021
Summary of valid nominated candidates published
Thursday, 19 Aug 2021
Final date for candidate withdrawal
Monday, 23 Aug 2021
Notice of Poll published
Wednesday, 8 Sep 2021
Close of election
Monday 4 October 2021
Declaration of results
Tuesday 5 October 2021
Voting
As public ELFT member living on one of the areas with a vacant seat, or staff member, you choose who will be elected as a Governor(s). During the voting process which starts on 8 September 2021, election statements of candidates will be sent to cast your vote. Your vote does make a difference. Please vote before the close of the election date (shown above). If you have any questions about our Governor Elections, contact the Governors and Members Office on the details given below.
Register to Join Your Local Virtual Members and Stakeholders
These meetings provide our members and stakeholders (service users, carers and anyone with an interest in our services) theopportunity receive regular and latest updates about the services ELFT provides in your local area. You can also ask questions to our staff and service Directors at these meetings and share your views.

Due to maintaining safety for our staff and members/stakeholders during Covid19, these meetings will be held virtually.
Our next scheduled meeting for Luton is on 22 September. For this meeting to go ahead, we hope to have at least 10 people register. If you live in Luton and would like to join either via video call or you can dial in to the meeting using your telephone or mobile, please call 0800 032 7297 or email elft.membership@nhs.net.
If we do not have the minimum number of 10 people register for the Luton meeting, we will hold a joint Bedfordshire (Bedford Borough and Central Bedfordshire) and Luton meeting on 30 September.
To join any of these meetings please email elft.membership@nhs.net or call 0800 032 7297
Luton Members and Stakeholders' Meetings
Wednesday 22 September 2021
Minimum of 10 people to register for the meeting to be held
Bedfordshire (Bedford Borough and Central Bedfordshire) Members and Stakeholders' Meetings 3:30pm – 5:00pm Thursday 30 September 2021 Wednesday 8 December 2021
London Members and Stakeholders' Meetings
(For anyone living in London or areas)
3:30pm – 5:00pm
Thursday 21 October 2021
---
AMM and AGM 2021 – Save the date
Over 100 people joined our Annual Members Meeting and Annual General Meeting last year in 2020 which was held virtually online. This year's meeting will also be held online on Tuesday 12 October from 4:00pm to 5:30pm.
As usual the meeting will include our finance and Governors report as well as an overview of the past year from our Chief Executive. We will reflect on the past year and look at the impact of the Coronavirus pandemic on our services, on our patients, carers and staff. There will be a question and answer session where you will be able to post question to a panel consisting of our Trust Board members.
We are currently planning the meeting and will send invites and more information about the meeting soon.
Not already a Member?
If you are not already a Trust member and would like to join, email elft.membership@nhs.net or call 0800 032 7297.
You can also join online at https://www.elft.nhs.uk/Get-Involved/Members. As a Trust member we will keep you informed about meetings and events and you will receive this quarterly magazine packed with current ELFT news. You will also be invited to nominate yourself to become a Trust Governor and take part in the voting process to elect your local Governor representatives.