MP Dame Meg Hillier Visits Greenhouse Practice in Hackney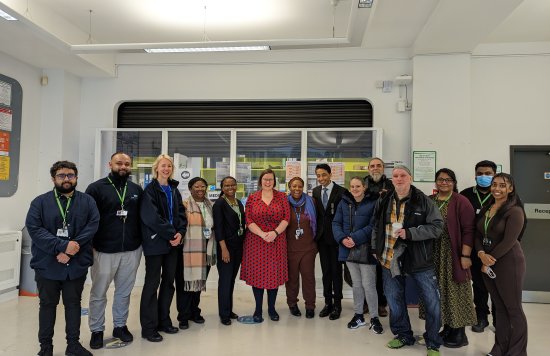 Dame Meg Hillier, the Member of Parliament for Hackney South and Shoreditch, visited the Greenhouse Practice on 17 March to see the work going on in the practice to support the local community. The practice supports people who are living in hostels or supported accommodation, rough sleepers, and people who spend a significant amount of time on the street or in other public places
Dame Meg Hillier's visit provided an opportunity for discussion and was a chance for her to hear directly from the patients. Some shared their personal stories of hardship and struggle. Dame Meg was deeply moved by their stories and has asked them to work with her on improving things for this vulnerable group.
Martin, The Poet, one of the practice representatives said,
"It was productive to speak to the MP and the senior management of the Practice to highlight both the things that the Greenhouse Practice does very well, supporting its service users with much compassion and humanity, how to make sure some of the services are better conceived, coordinated, monitored and run. This would give benefit to some of the most desperate people in society, such as asylum seekers, homeless, those with complex needs, and mental health issues."
Dame Meg, who nominated Greenhouse Practice for the prestigious NHS Parliamentary Award, used the visit to personally present them with the Award. "It was a breath of fresh air for the Greenhouse Practice", said Sultan Ahmed, Practice Manager at Greenhouse, "as it was inspiring to hear positive feedback from both the patients and the MP."
Another patient, Liam, remarked that it was refreshing to have a face-to-face conversation. He felt that Dame Meg's visit had given him and the other patients a voice and a sense of hope for the future. Dr Mohit Venkatarm, Executive Director said,
"This day highlights the importance of community-based healthcare and the need for compassion and humanity in the healthcare system. It is a reminder that small acts of kindness and support can make a huge difference in the lives of those who are struggling."