New Pharmacy Role for Mental Health Transformation Programme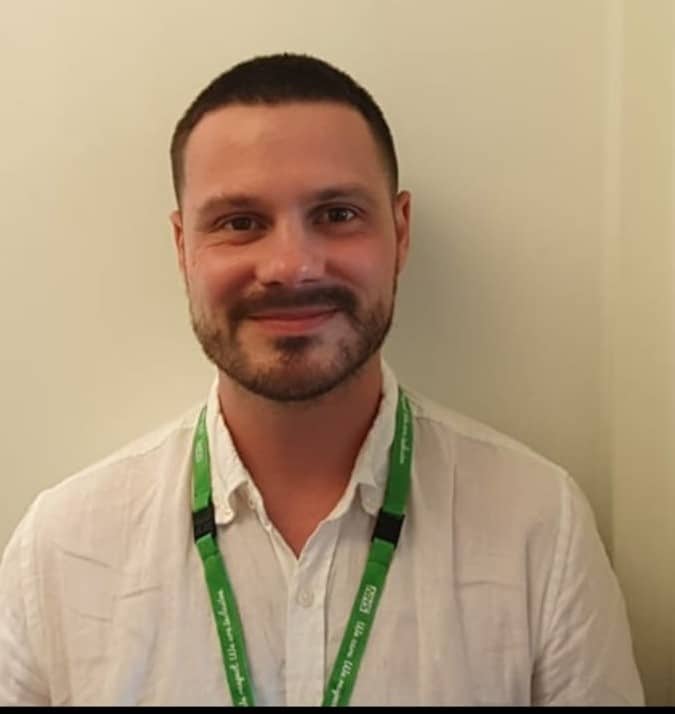 Specialist Mental Health Pharmacist Matthew Lines and his team of mental health pharmacists have joined the mental health neighbourhood teams set up as part of the East London Community Mental Health Transformation Programme.
As picked up in national trade press last year, the roles of Matthew and his colleagues are new and ground-breaking developments in ELFT following a commitment in the national NHS People Plan by NHS England and NHS Improvement, and Health Education England, to creating and shaping these pioneering new roles in community mental health. Here, Matthew shares the changing and exciting nature of his role, why he feels pharmacists play a key role in mental health services, and his hopes for better service delivery for patients.
I joined ELFT in July 2020 as the sole mental health pharmacist working within the East London Community Mental Health Transformation programme. Over the course of the year our team has expanded, and in the next couple of months we should have a mental health pharmacist in place in each of ELFT's boroughs, as well as a pharmacy technician working within Tower Hamlets as part of a novel pilot project.
New Ways of Working
We work together as part of the newly formed mental health neighbourhood teams, supporting service users to maximise benefit from their medications, and providing specialist knowledge to our colleagues in primary care. The Transformation Programme's holistic vision of acting upon wider determinants of health to improve population wellbeing aligns with my vision of healthcare services, and within these teams there are huge prospects for specialist mental health pharmacists and technicians in promoting parity of esteem and improving quality of life for service users.
My Day
My day is varied but will typically involve contribution to multi-disciplinary team meetings across the three boroughs, consultations with service users to discuss their medication, and answering queries from colleagues. The pharmacy team also contributes to the development of workstreams and projects within the wider transformation project providing medication education & training sessions for the wider team, which includes primary care staff, community connectors and psychological wellbeing practitioners.
Unfortunately, most of this work has so far been done remotely, but we are excited as a team to hopefully begin moving our activity closer to our service users and their communities.
The Transformation Programme has allowed our team to reach service users in primary care; previously, specialist mental health pharmacy support has only been available within inpatient facilities, or in a very limited fashion within community mental health teams. This inequity of care has started to be remedied through our offer, and we can provide timely access to care where service users are struggling with medication or would like further information on their treatment.
Supporting Controlled Medication Changes
Whilst mental health medications can help people with severe mental illnesses immeasurably, these treatments can carry a significant side effect burden, they may be difficult to withdraw and can result in prescription cascades where adverse effects are treated with a succession of further medications. Discontinuation of these medications can be overwhelming for service users and, to compound this, general healthcare practitioners can lack the specialist knowledge or confidence to alter treatment regimens, leaving many patients overprescribed and remaining on medications for years.
Optimising medication regimens can be equally challenging, and many patients living with complex emotional needs, medically unexplained symptoms or treatment resistant conditions are not receiving rationalised psychotropic therapy. There may also be a lack of individualised support or input required to maximise benefit from their treatment.
Historically individuals have had to wait a long time between appointments for specialist input to review their medications or other aspects of their care, and many people have not fitted the criteria required to access secondary care mental health services – the Transformation Programme is of course seeking to address this including through our new roles. The opportunity for us to spend concerted time exploring service users' experiences and perceptions of medication, has allowed us to make proactive, collaborative and positive changes to medication regimens and support those we care for.
Individuals' lives and circumstances are dynamic and it's important that medication regimens change and adapt in conjunction with these life and circumstance changes. It has been particularly rewarding to be able to work with service users over a long period of time and slowly and safely reduce medications where they previously would have remained unchanged. I've also really enjoyed being able to be part of joint consultations with psychologists, community connectors and social workers, and feel it has given a more holistic and balanced approach to care. It has been fantastic to build relationships with our primary care colleagues and learn from each others' practice.
Feel Part of Something Unique
My experiences of community mental health transformation have been overwhelmingly positive, and I'm constantly inspired when I witness the innovative work in which my colleagues are involved. The opportunity to constantly question how we have previously delivered all aspects of care, to tackle complex issues, and to focus on redesigning our services based on our users' needs has been a unique experience for me. The impact of new roles such as community assistant psychologists, peer support workers and community connectors has been broader than helping individuals, harnessing the social capital within our neighbourhoods.
There are still a lot of challenges to unpack within the programme, and as it expands geographically in the coming months, I anticipate there will be issues in adapting to new ways of working and maintaining capacity, especially in the context of the increased mental health burden resulting from the Covid-19 pandemic. However, I believe the expertise, flexibility, and passion for care that our newly formed ELFT teams have shown already will help to redress any problems as they arise.
As our mental health pharmacy team grows, we are excited to build upon our current work in transformation, which so far has largely been providing individual support for service users and training for small teams. We wish to look outward and collaborate on wider medication projects with service users, carers, and our colleagues and partners across the programme to positively influence psychotropic prescribing across the three boroughs and reach as many people as we can.