Minister of State for Disabled People, Health and Work Visits Tower Hamlets Talking Therapies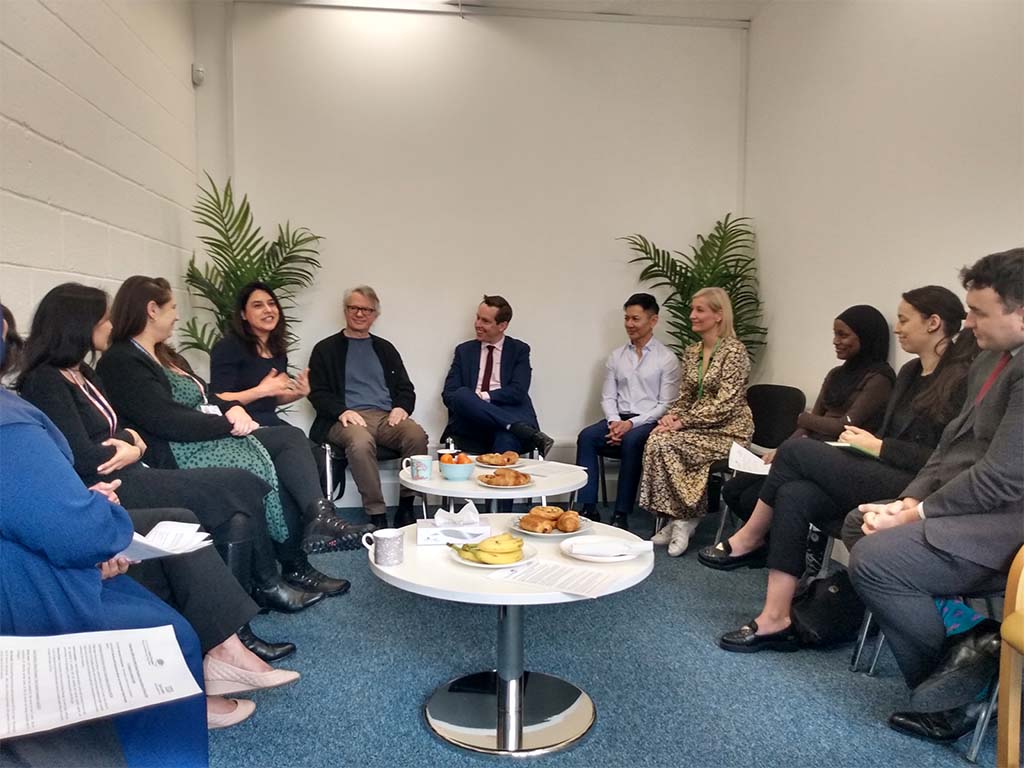 Tom Pursglove MP, Minister of State for Disabled People, Health and Work, visited the Tower Hamlets Talking Therapies service on 16 March. He met with staff who work in the service and two local residents who have recently used the service.
The Minister was keen to hear about the impact of Employment Advisors who are part of the Talking Therapies team, and to hear first-hand, the value of supporting people with common mental health conditions by providing employment advice to help them stay in work or return to work.
ELFT Chief Nurse and Deputy Chief Executive, Lorraine Sunduza, and Borough Director for Tower Hamlets, Day Njovana, welcomed the Minister and spoke about how the work of the service fitted with the Trust's strategy to improve the health of local people.
Dr Alia Hussain, Clinical Lead/Clinical Psychologist, and colleagues explained how the service works providing support and strategies to help people to address issues and build confidence, working alongside employment advisors. Tower Hamlets has a high unemployment rate (4.7%) compared with other London boroughs and just over 5% of the population have a disability so this service is much needed in the borough.
The Minister met with Chris Heidel and Anamika Butalia, Tower Hamlets residents who have recently received Employment Advisor support. They spoke of the importance of having a focus and purpose in their lives, the value of the support they had received from the service, and how transformed they felt from their contact with the service.
The Minister for Disabled People, Health and Work, Tom Pursglove MP said:
 "It was truly inspiring to meet staff and patients at the NHS Talking Therapies Service in Tower Hamlets, where amazing work is being done to help people with mental health conditions on their journey into, or to return to, employment.

"In the week we published our Health and Disability White Paper which set out the fundamental principle that health services and work outcomes should be better joined up, I was delighted to see how existing services are delivering this and improving lives.

"Having a fulfilling job is an enormous source of self-worth and self-pride, and in Tower Hamlets I saw how positive conversations about getting into work are also hugely important to people who are on their health journey to recovery."
Monton Jienpetivate, Associate Clinical Director for Primary Care Psychological Services said,
"The key success in helping people to get back on track quickly is to offer the right care at the right time, without multiple referrals or long waits.  Around 80% of Service Users to the Tower Hamlets Talking Therapies is by self-referral. They receive psychological help alongside employment support in one place.

Our Service Users play an important role in shaping the way we run the service.  Many of them return as "graduates" to work alongside our staff and other Service Users to coproduce, keeping our approach fresh and relevant."
Just put 'Talking Therapies' into any online search field to find your local service.