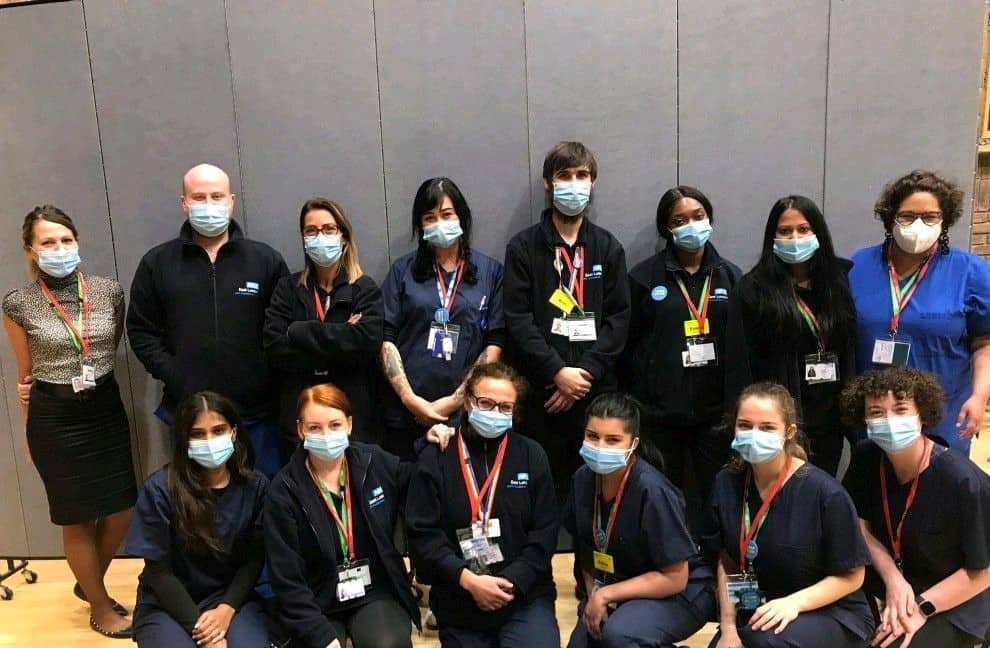 Rates of coronavirus infection remain very high in England. As we go to print, some countries in Europe are imposing lockdown restrictions to curb their infection rates. Although COVID immunisation is helping to reduce the severity of the illness, it is important that we all continue with measures to reduce the spread of infection:
Wear masks in situations where you will be in contact with others in an enclosed space – and when in NHS premises
Wash your hands after using public transport, shopping trolleys, cashpoints, door handles, hand rails and any surfaces used by the public
Stay at home if you have COVID symptoms and book to have a PCR test
Self-test to be sure you are not positive and inadvertently passing the virus to others

Westfield COVID Vaccination Team go Back to School
The COVID Vaccination programme is being rolled out to young people aged 12-15 years. A team of staff from the Westfield COVID Vaccination Centre have been liaising with schools and doing pop-up clinics on school premises, where parental consent has been given. The Westfield team offered a drop-in or pre-booked service at the centre over the October half-term which proved popular with families and has continued.
COVID Vaccine Booster Programme
The Westfield COVID Vaccination Centre are offering COVID vaccine boosters (Ffizer) alongside first and second COVID Vaccines to the public. Within the Trust, we are urging staff to come forward for their Booster when eligible. Staff can book using the national booking system or walk-in to the Westfield Centre and show their ELFT ID.
40-49 Age Group Invited for Booster
The extension of booster jabs to those aged 40-49 (cohort 10) was recommended by the Joint Committee for Vaccination and Immunisation (JCVI) on 15 November. The NHS will contact people in this age group directly to let them know when it is their turn to get their booster vaccine, and plans to open the National Booking Service to enable bookings by this newly eligible group.
Consultation - Making Vaccination a Condition of Employment in the NHS
The Trust publicised the NHSE consultation on making COVID and Influenza vaccination a condition of employment, and encouraged staff to participate.
Following on from this, the Department of Health and Social Care has formally announced that individuals undertaking CQC regulated activities in England must be fully vaccinated against COVID-19 no later than 1 April 2022 to protect patients, regardless of their employer, including secondary and primary care.
This means that unvaccinated individuals will need to have had their first dose by 3 February 2022, in order to have received their second dose by the 1 April 2022 deadline. The Trust will review the detail of the announcement and await central guidance.
Currently, 89% of staff have had their first vaccine 89% and 80% are fully vaccinated.
We continue to urge staff to get vaccinated and source responses to all queries. Concerns about fertility, pregnancy, birth and breast-feeding appear to be key queries from our staff causing hesitancy, so a webinar with specialist speakers was set up. The webinar was recorded for staff not able to attend to view.
Proof of Vaccination Record When Visiting Care Homes
Staff are aware of the need to be prepared to show evidence of full vaccination since 11 November when visiting Care Homes.
Promoting Vaccination to Local Communities
The Trust has been supporting national messaging of the importance of COVID vaccination. ELFT has supported a number of media visits to the Westfield COVID Vaccination Centre providing access to members of the public who are happy to be filmed, fielded spokespeople and enabled contact with vaccination centre staff.
The Centre hosted a TikTok event in a bid to improve the uptake of the COVID vaccine in younger age groups. Two NHS doctors with a large TikTok following, based themselves at Westfield on Saturday 2 October. Dr Karan Raj (4.3m followers) and Dr Emeka Okorocha (242k followers) use their online platforms to advise their followers on health and wellbeing matters.
Staff Self-Testing
All staff have been issued with COVID self-testing kits (Lateral Flow Test). This includes permanent staff, bank and agency staff, students, and domestic staff. This has now been extended to all staff who are working from an ELFT site all or part of the week. Staff need to test and upload their results twice a week.
LAMP Testing
The Trust was part of a pilot trialling a less invasive self-test involving a weekly saliva test which has greater reliability. This has now been rolled out to any staff member in Tower Hamlets, City and Hackney and Newham who are able to drop the sample off at one of the pick-up sites.
Lead Employer for NEL COVID Vaccination Centres
As the Lead Employer for COVID Vaccination Centres in NE London, we continue with activities to recruit and train staff to work in vaccination sites across North East London. The vaccination programme provided new jobs, training and opportunities. This has been a gateway for many to an NHS career. A Careers event is planned for February 2022 to support these staff into training and permanent careers in health and social care.
Influenza Vaccine
Rates of flu are expected to be high this winter as having worn masks all last winter and been in lockdown, our exposure to the influenza viruses will have been minimal so our immunity will be low. We are encouraging all staff to have the Influenza vaccine and are holding local clinics at all sites. We are also offering Digital Flu vouchers with an ELFT code which staff can register for to have their flu jab at their local pharmacy.
All eligible patients are being encouraged to have their flu jab. ELFT medical staff have been asked to ensure that flu vaccination is considered for current and future inpatients as part of the admission assessment. The vaccine for people over 65 has an additional ingredient to strengthen their immune response.