Leighton Buzzard COVID Assessment Centre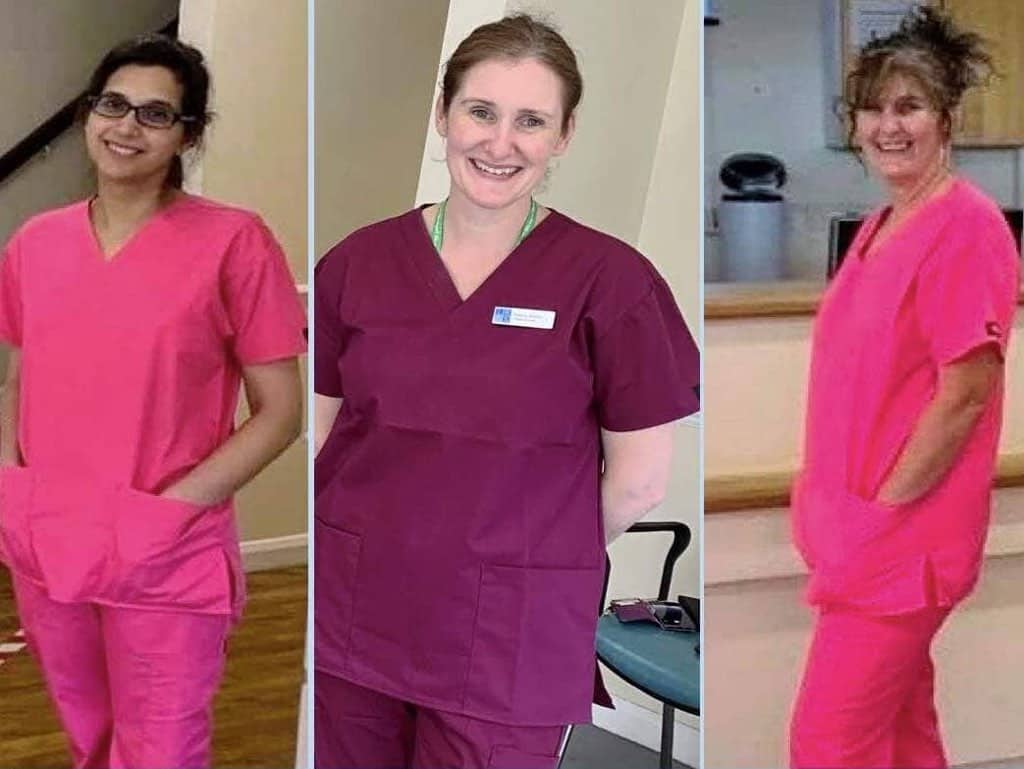 THE Trust's Leighton Road Surgery (LRS) was used as a COVID-19 assessment centre for patients from Leighton Buzzard from April 22-June 19. Colleagues from LRS and the town's two other GP practices worked side-by-side to operate the assessment centre while continuing to provide primary care services for everyone who needed them as a Primary Care Network (PCN) made up of local practices.
Dr Farah Paruk (Lead GP, LRS), Alex McGarvey (Lead Nurse, LRS) and Penny Kestel (Minor Illness Nurse, LRS) reflect on how healthcare services in Leighton Buzzard, working together as the town's Primary Care Network (PCN), responded to COVID-19 at the peak of the first wave.
The assessment centre was set up to review and assess any patient with confirmed or suspected COVID-19 or members of their household who needed face-to-face assessment. It was to provide a safe area for assessing patients away from the main surgery site and in this way protected other staff and patients.
All three surgeries provided clinical cover. Each shift had a GP, Minor Illness Nurse and Health Care Assistant. The LRS team provided the administrative and logistical support as well as the organisation of clearing the building and the necessary deep cleaning and PPE.
How many patients did you review?
We saw more than 100 patients. The role of the centre was not to test the patients for COVID-19 but to assess their symptoms and decide a plan of care. Some of the patients we assessed had already been in-patients in the hospital and therefore had a known
COVID-19 positive result. However, the vast majority were showing possible symptoms of COVID-19 and our job was to decide based on our clinical judgement if admission to hospital and further medical intervention was required or if they could be safely treated at home.
How did the centre help patients?
The main aim of the centre was to allow a 'safe place' for patients with symptoms of COVID-19 to be seen and assessed, away from their surgery's main site thus minimising exposure to the virus to the majority of patients and staff in the town. It provided a bridge between the community and the hospital so patients could be seen, assessed and treated quickly and effectively in a local setting.
How did you provide other primary care services at the same time?
The surgery identified staff who could work in the COVID-19 assessment centre and these became the HOT team. This allowed the remaining staff to care for our more vulnerable patients and those that were not showing any symptoms of the virus.
The practice followed NHS guidelines and reduced footfall to the surgery by introducing remote consultations for patients, by phone and video. Many of our patients were shielding and so were housebound. Practice staff who were not working in the assessment centre delivered necessary care to patients in their own homes.
A huge amount of work was done to identify patients who were at high risk of developing complications of COVID-19 and many hours were spent speaking to these patients on the telephone. Staff who engaged in this activity found it immensely rewarding.
Children's and baby immunisations continued during the pandemic and a dedicated area of the practice was used for this group.
What were the challenges you and the rest of the team faced?
COVID-19 was a great leveller as initially none of us had any knowledge of the virus, how it would present or what precautions were required. Guidelines changed almost daily so the whole practice team needed to be able to adapt to new ways of working quickly.
One of the biggest challenges during the pandemic for all the staff was overcoming our own fears and anxieties including introducing the virus to our own families whilst aiming to deliver an effective safe service to our patients.
What did you learn professionally and personally from working in the
centre?
We were all bowled over by the commitment to work together and the speed of change that happened within our own surgery and between the three surgeries that form the PCN. We have all expressed thoughts that as a group we were able to achieve more in two weeks than normally can be achieved in a year.
Working in the assessment centre we enjoyed strengthening relationships with the other surgeries, meeting new staff, seeing and working with old friends and creating supportive professional relationships across the PCN which we believe will be long lasting.
Now the temporary assessment centre has closed, what should people in Leighton Buzzard do if they have concerns about COVID-19?
Patients who feel unwell or are displaying symptoms should continue to contact 111 who will direct them to the most appropriate service. However we still have a dedicated facility at our Grovebury Road site to
see, assess and treat patients who have symptoms in the surgery.