Modern Matron Graham Has Got the T-Shirt!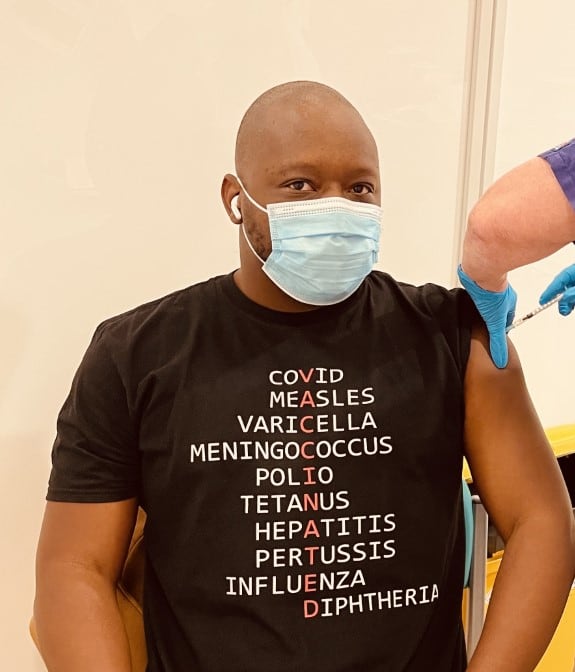 Our Trusttalk cover star, Modern Matron Graham Manyere, feels so strongly about the benefits of vaccination, he's got the t-shirt - a t-shirt that shows a long list of infections that are no longer a threat to life due to vaccination. As a BAME Staff Network lead, he urges all colleagues to come forward to have their COVID vaccine when they are able to.
Graham contracted Coronavirus in December 2020. He says, "It was one of the most traumatic experiences of my life." He was distressed at finding himself bed-bound with no sense of taste or smell. He felt isolated being stuck in a room with no social connection to friends and loved ones and more importantly, not being able to physically embrace his son. He vowed he would get vaccinated to to protect his family and friends from the virus as soon as he was able to.

Like many, he did have concerns about the speed that the vaccine(s) had been developed.
"I was initially sceptical about the vaccine, However, after sharing personal experiences with colleagues in our monthly BAME Network Webinars, and taking part in various Trust COVID Vaccine Webinars, my concerns lessened, my questions were answered and I felt reassured. I was pretty anxious while getting the vaccine as you can see from my picture. I'm literally stiff-faced as I have a phobia of needles! However, post vaccine I had no adverse reactions apart from a numb arm for a while. I feel reassured to be vaccinated and hopefully of eventually eradicating the impact of the virus"
Graham empathises with people's anxieties and fears about having the vaccine. However, he feel the benefits of the vaccine far outweigh the impact and lasting effects of COVID-19. "He goes on, "BAME groups have been affected more than most by the virus. For me, it's important that we get vaccinated as that is the best way to ensure we protect ourselves, our communities and our families."