Newham Psychologists and Carers Author Book on Dementia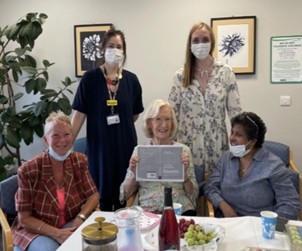 Dr Michelle Hamill and Dr Martina McCarthy, Clinical Psychologists from the Mental Health Care of Older People's services in East London have co-written a psychologically informed book 'How to Help Someone with Dementia.'
It includes content from experts by experience from the service; Patrisha David - Person with Dementia, Shirley Drake, daughter and carer to Eileen McDermott and Edna Medland - wife and carer of Robert 'Bob'. Sadly, Eileen and Bob passed away during the writing of the book.
The book aims to promote a holistic, person-centred, compassionate and creative approach in supporting carers in the lives of people with dementia.
Michelle and Martina hope the book will help carers to look after themselves to be able to support loved ones who have dementia with dignity and respect, and provide tips and advice on how to manage the challenges that can arise.
Dr Hamill says: 
"We feel privileged to have worked with these women and we thought their stories brought amazing life to the psychological ideas and principles offered in the book. We were approached by a publisher who had seen some papers we had authored about dementia. We couldn't say no, given how much carers of people with dementia contribute, often quietly and without recognition."
Shirley enjoyed the experience of contributing to the book: 
"It is so exciting; the book will be such a great help to everyone. I really wished I had the book when mum was diagnosed as I felt totally alone, naive and ignorant really. So our beautiful book will help many."
The book has impressed colleagues working in this field. Consultant Psychiatrist Dr Juliette Brown, from the Newham MHCOP service had this to say: 
"It's probably the best book on dementia I've ever read, and we're really pleased and proud that our patients and families have chosen to work with the team to produce this resource which will help so many people struggling with dementia."